"Mary Pickford used to eat roses, Thought that they'd make her beautiful and they did… "
Well I'm not that good in singing songs but who really cares if I cook in my little tiny kitchen. Maybe the all the patients of the otorhinolaryngologist team. But I guess that most patients don't hear anything. That's the reason why the stop at the doctor.
Anyway my friend S. came for dinner to my place on Friday. We had a lovely girls night so I thought about something simple and easy. I came up with hummus! I really really love hummus! It's not very popular here at least you can't buy it in a grocery. So I was not sure if she will like it. BUT!!! She got totally crazy of this stuff. We didn't need the main course which was chicken in wine, rice and veggie. Oh and the dessert! It was delicious too. Dark chocolate cake on custard with caramelized apples. It was all about this hummus.
First of all I roasted a whole garlic. That's pretty easy!
Just chop the head of and put some oil on it.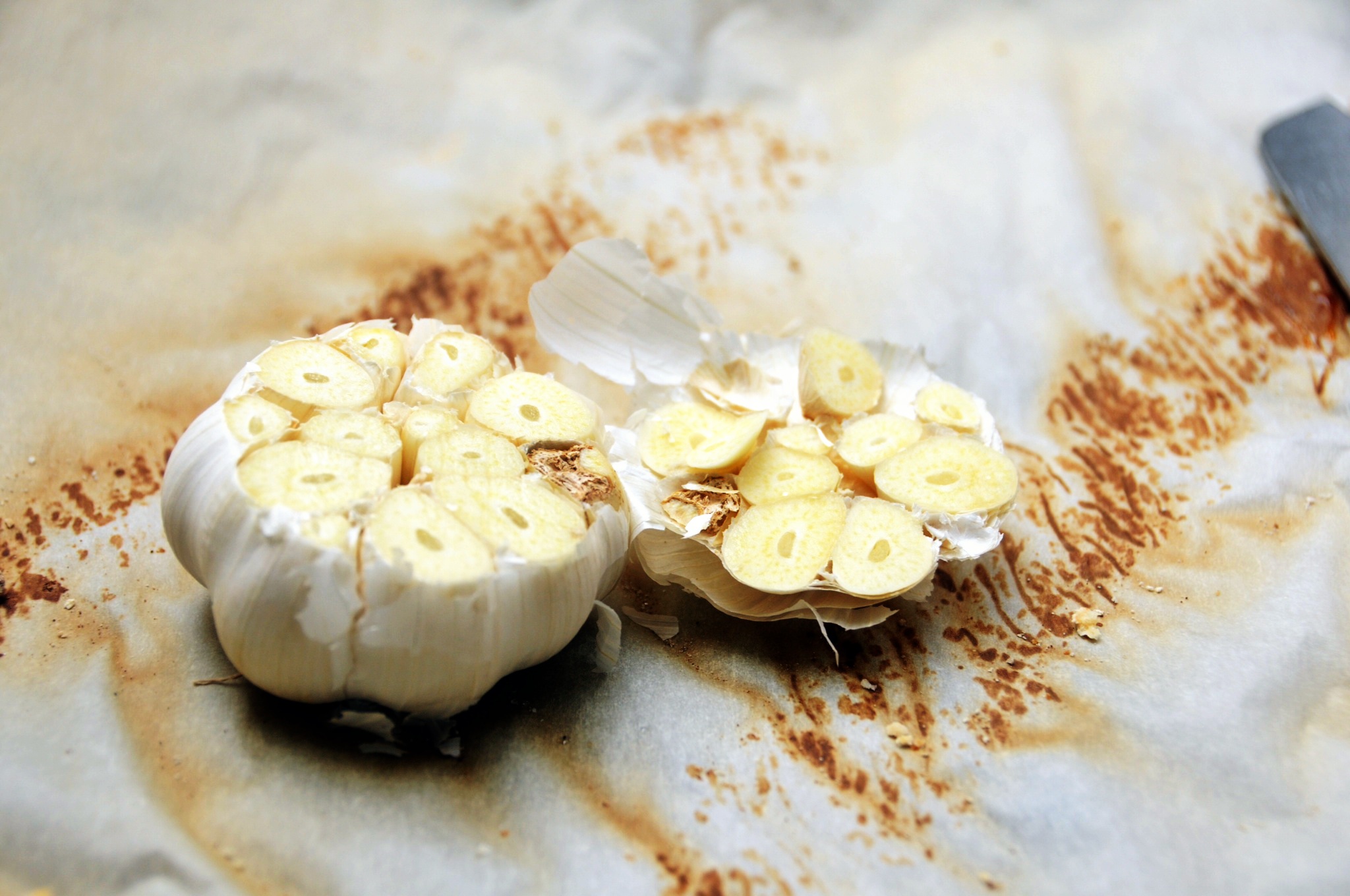 Add some salt and pepper!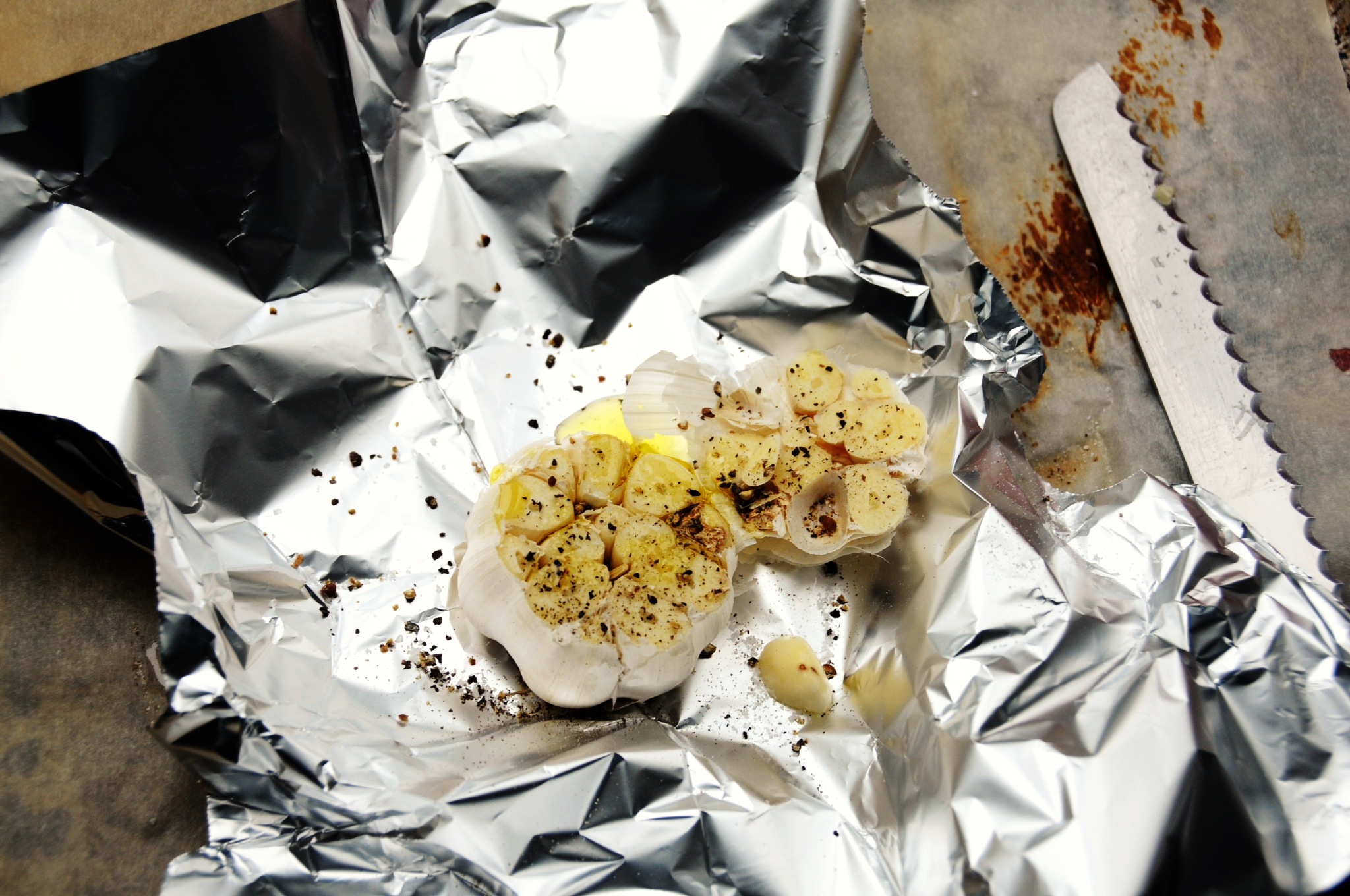 If you a bit crazy like me put some chilli on top! Yeah, yeah! Spice up your life. Lalalalala!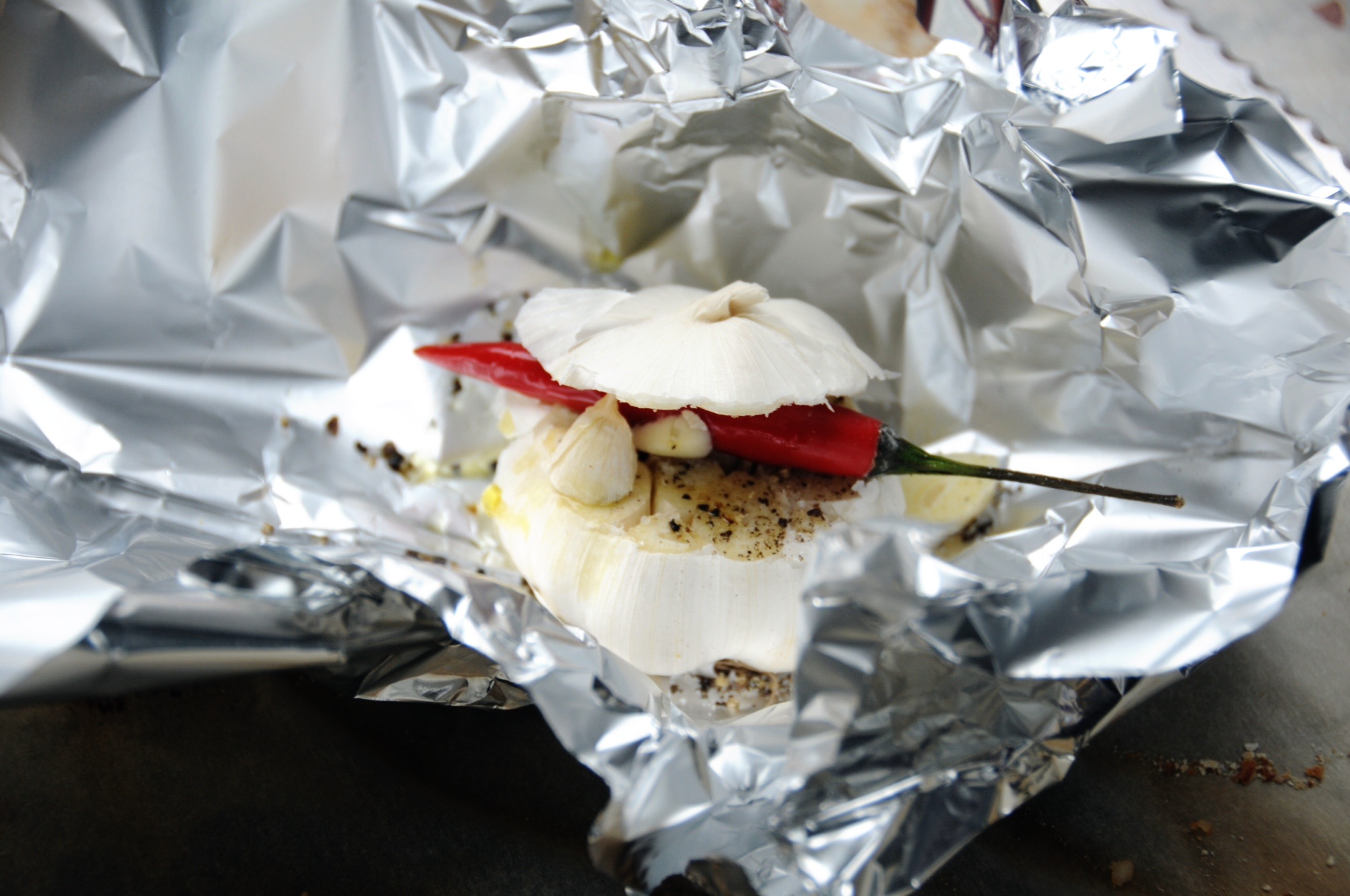 Wrap it, place it on backing sheet and roast it for 30 minutes or until completely tender when poked with a knife.
Cool slightly.
Hummus is really one of the easiest appetizer. Take a can of chickpeas, drained and rinsed.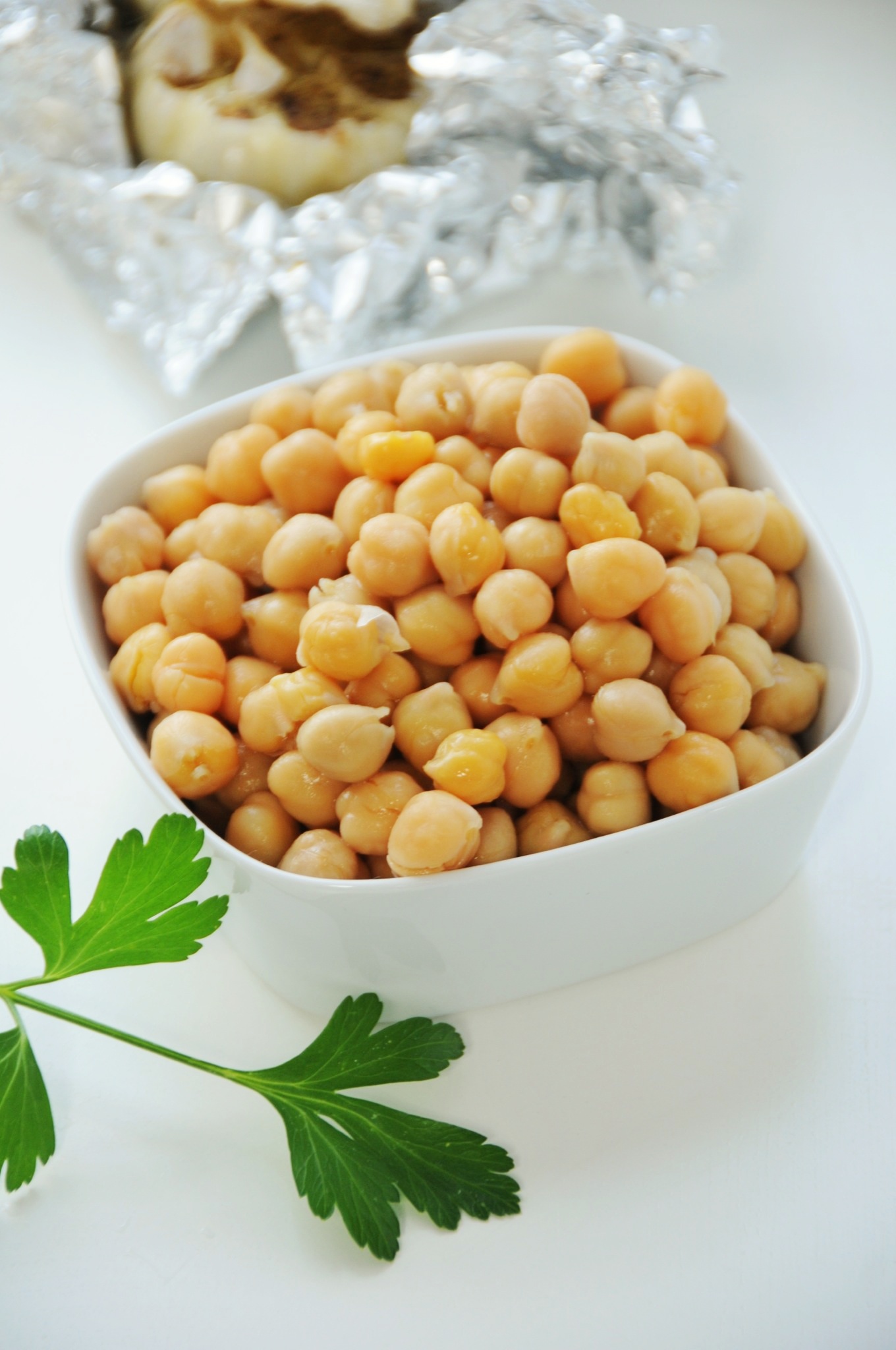 Some oil and garlic. You don't have to roast the garlic but it's so much sweeter. You should try it!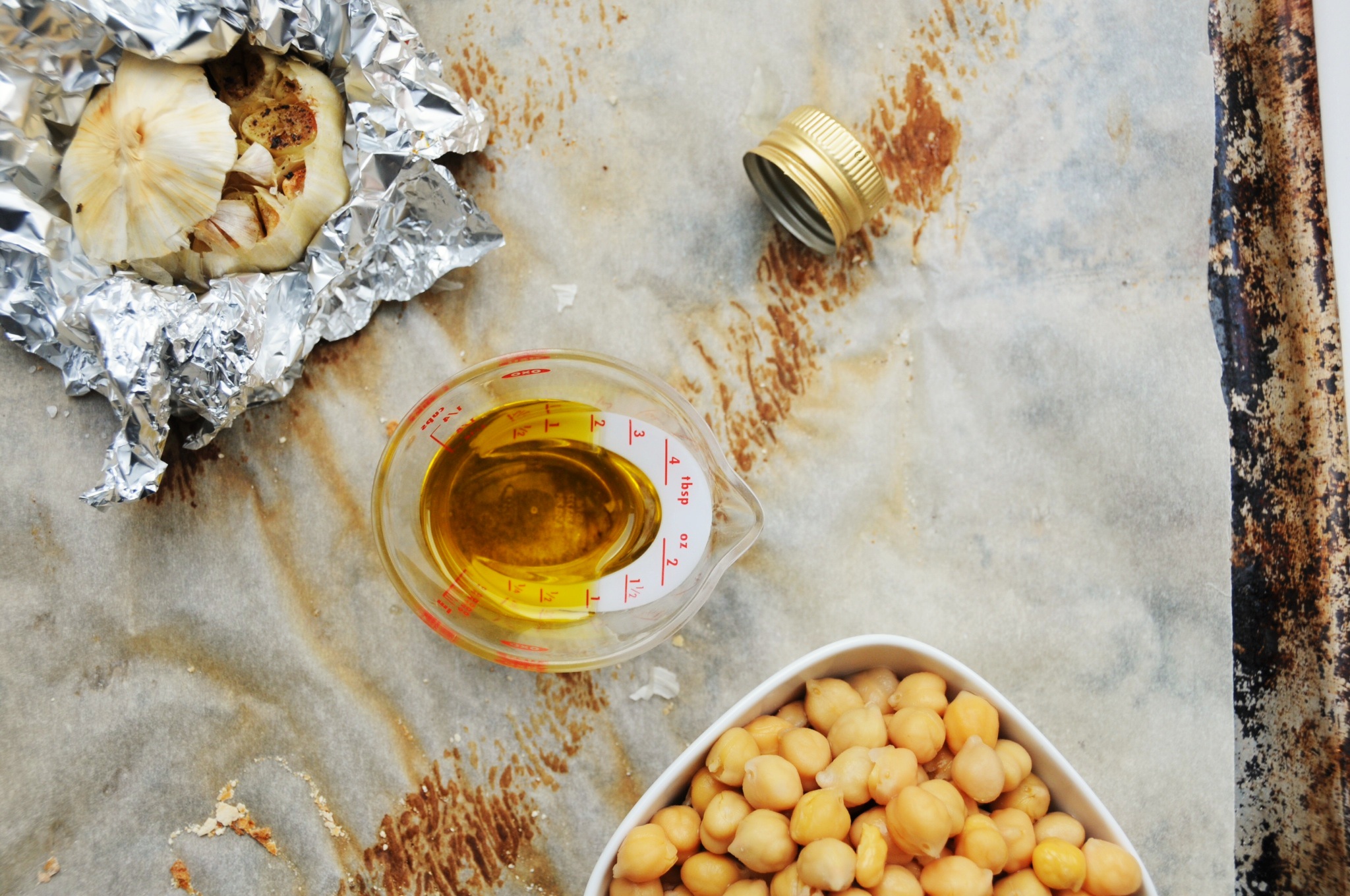 Put the chickpeas, some garlic cloves, the oil, tahini and juice of one lemon in the food processor. Add some salt and pepper to taste. And… here you go! Lovely creamy roasted garlic lemon hummus!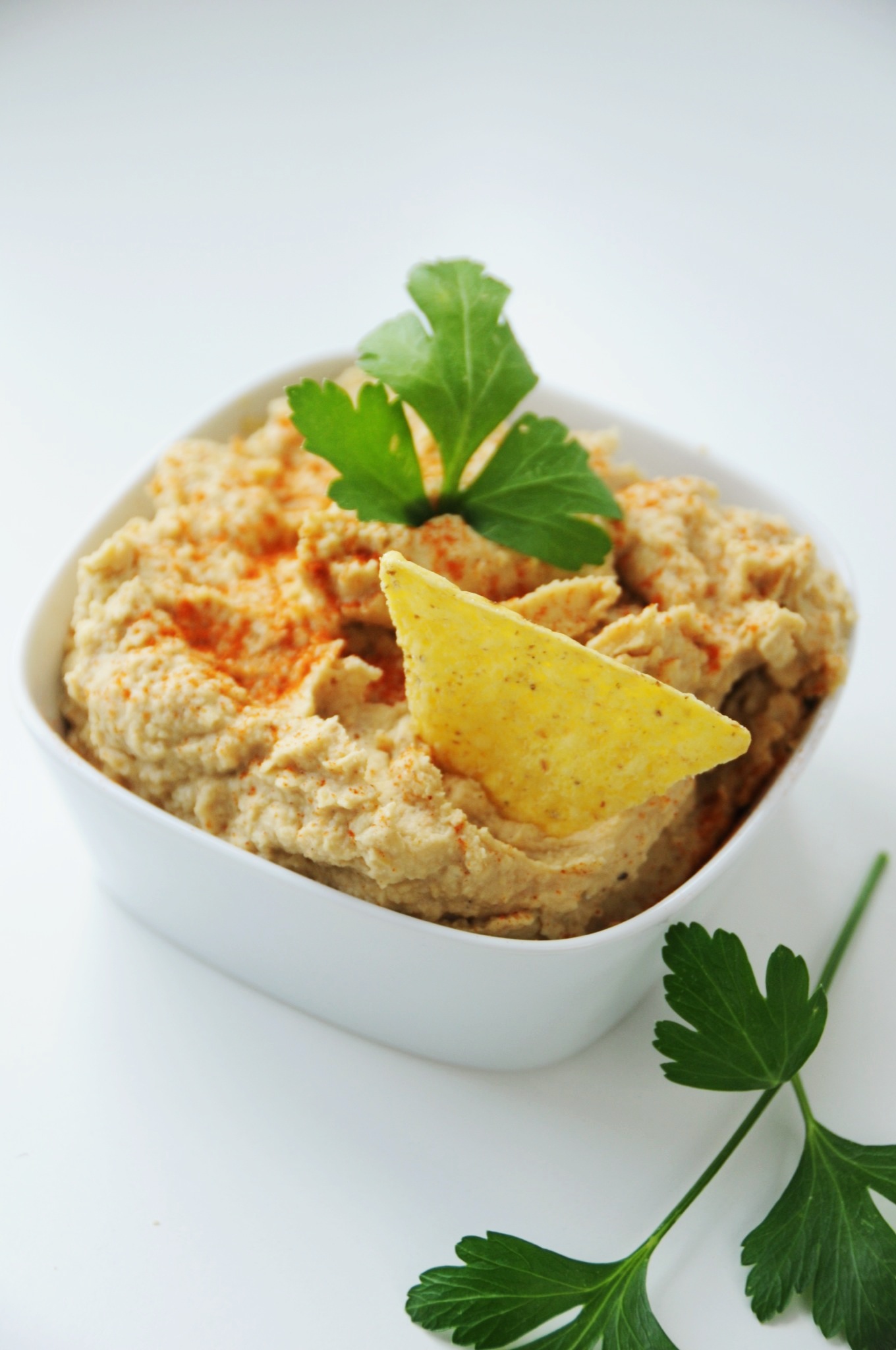 Serve with tortilla chips, veggies or whatever you like.
Roasted garlic
You need:
one whole garlic
some oil
salt and pepper
Steps:
Chop of the head of the garlic and place of foil
sprinkle with oil, salt and pepper
Wrap it and put it in the oven
Roasted it for 30 minutes / 200 °C (400°F)
Roasted garlic lemon hummus
You need
1 can chickpeas, drained and rinsed
roasted garlic – I took three big cloves
1 tablespoon tahini
1/8 cup olive oil
1 lemon / juice of a lemon
salt & pepper to taste
Steps
Add everything in a food processor.
Gerösteter Knoblauch
Zutaten
1 Knoblauchknolle
Olivenöl
Salz und Pfeffer
Schritte
Den Kopf vom Knoblauch abschneiden und auf Alufolie legen
Mit Olivenöl beträufeln
Salzen und pfeffern
Den Knoblauch gut in der Folie einwickeln und bei 200°C ca. 30 Minuten rösten oder bis der Knoblauch weich ist (Stichprobe mit einem Messer).
Geröstetes Knoblauch Zitronen Humus
Zutaten
1 Dose Kichererbsen, Flüssigkeit abtropfen lassen und gut ausspülen
3 Zehen gerösteter Knoblauch
1 EL Tahin
1 Zitrone / Saft der Zitrone
1/8 cup Olivenöl
Salz und Pfeffer zum Abschmecken
Schritte
Alle Zutaten in einen Behälter geben und mit einem Pürrierstab pürrieren. Alternativ alle Zutaten in eine Küchenmaschine geben und dort vermixen, bis eine cremige Maße entstanden ist.
Mit Tortilla Chips oder Gemüse servieren.